Projects
玉響- TAMAYURA
Nakagawa, Tutzer & Dalla Porta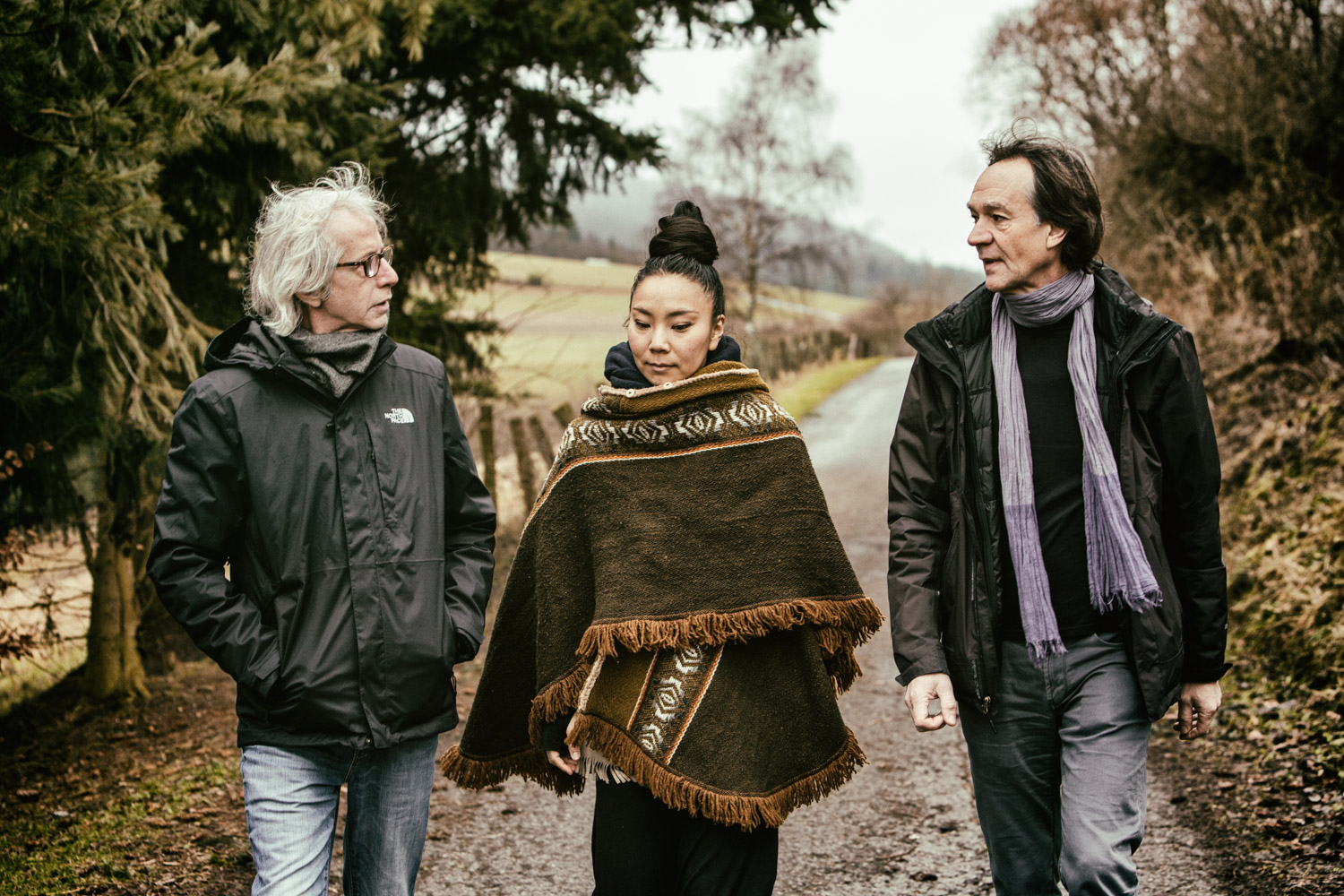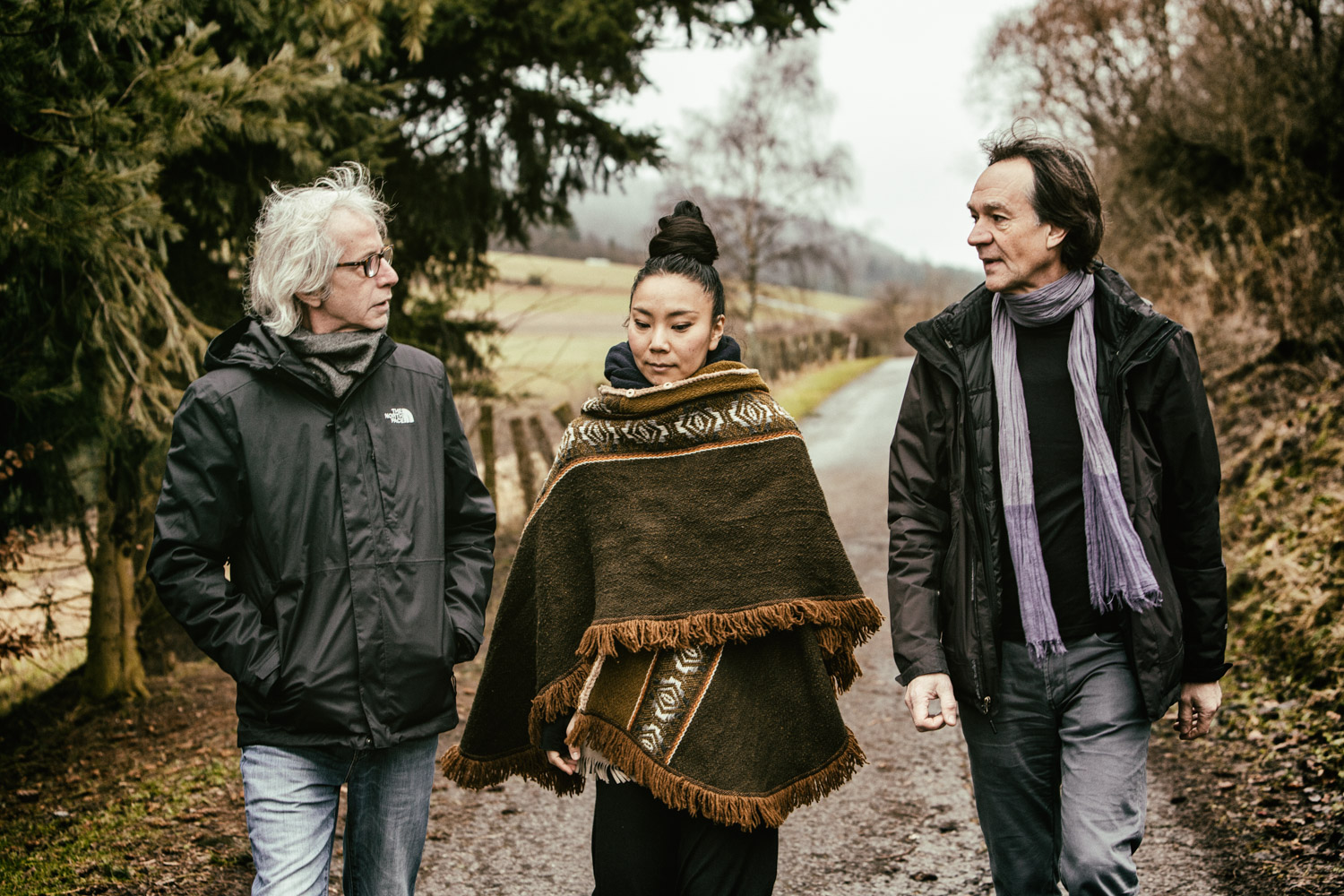 Karin Nakagawa from Yokohama (Japan) and Hans Tutzer from Bolzano (Italy) first met in the summer of 2014 at an international workshop for artists and musicians in South Tyrol. The one-of-a-kind resonance created by a mix of soprano saxophone, koto, and vocals—tied together with a remarkable musical affinity—soon led to numerous collaborative works and concerts.
In 2017, they were joined by esteemed Italian bassist, Paolino Dalla Porta, giving the newly-formed trio more depth, range, and fullness of sound. The fusion of chamber music, traditional songs, and jazz is playful, earthen and vibrant, and allows all three musicians to spread out and improvise across genres throughout their original repertoire.
Joyful hues, in a reverie full of harmonies, rhythms and soundscapes, instill a new independence, trailing off into vast expanses. This subtle and tender invitation entices you to linger, to slow down and immerse yourself into a silver-gold world…
Nakagawa, Tutzer and Dalla Porta convene as three masterful musicians who remember the beauty of impermanence with utmost sensitivity and passion, basing their actions on an essential focus, using a precise selection of sounds, and dynamically moving between meditative and energetic moments. This is poetry in its purest form!
Manfred Bernard
玉響 – TAMAYURA is a poetic Japanese way to describe a short, fading moment. Awareness of its impermanence makes that moment precious.
玉 = Treasure or Jewel
響 = Resonance, Sound, or Vibrate
Thus, TAMAYURA could also be explained as:
Treasure of Resonance in a fully experienced, yet impermanent moment.
the first CD of the Trio will be published by Losen Records November 2020!
---
LYÖSTRAINI

In the fascinating Swedish / Japanese Recording project LYÖSTRAINI – TREES OF LIGHT, Lena, Karin and Anders carefully let the japanese classical tradition, Lena's strong poems in her native Älvdals-toungue and the open fields of improvisation meet and react into a unique musical world for new paths to be created. The music of this ensemble carries an impression of history, of today and tomorrow- in the same, resonant spur of the moment.
The first CD of the Trio was published by ECM Records in the year 2015 and won the Swedish Grammy Award 2016 as well as the "Bestenliste 3-2015" awarded by: die deutsche Schallplattenkritik. Their second CD was released together with the Bohuslän Big Band in 2019 at Losen Records.
---
a new look at Debussy…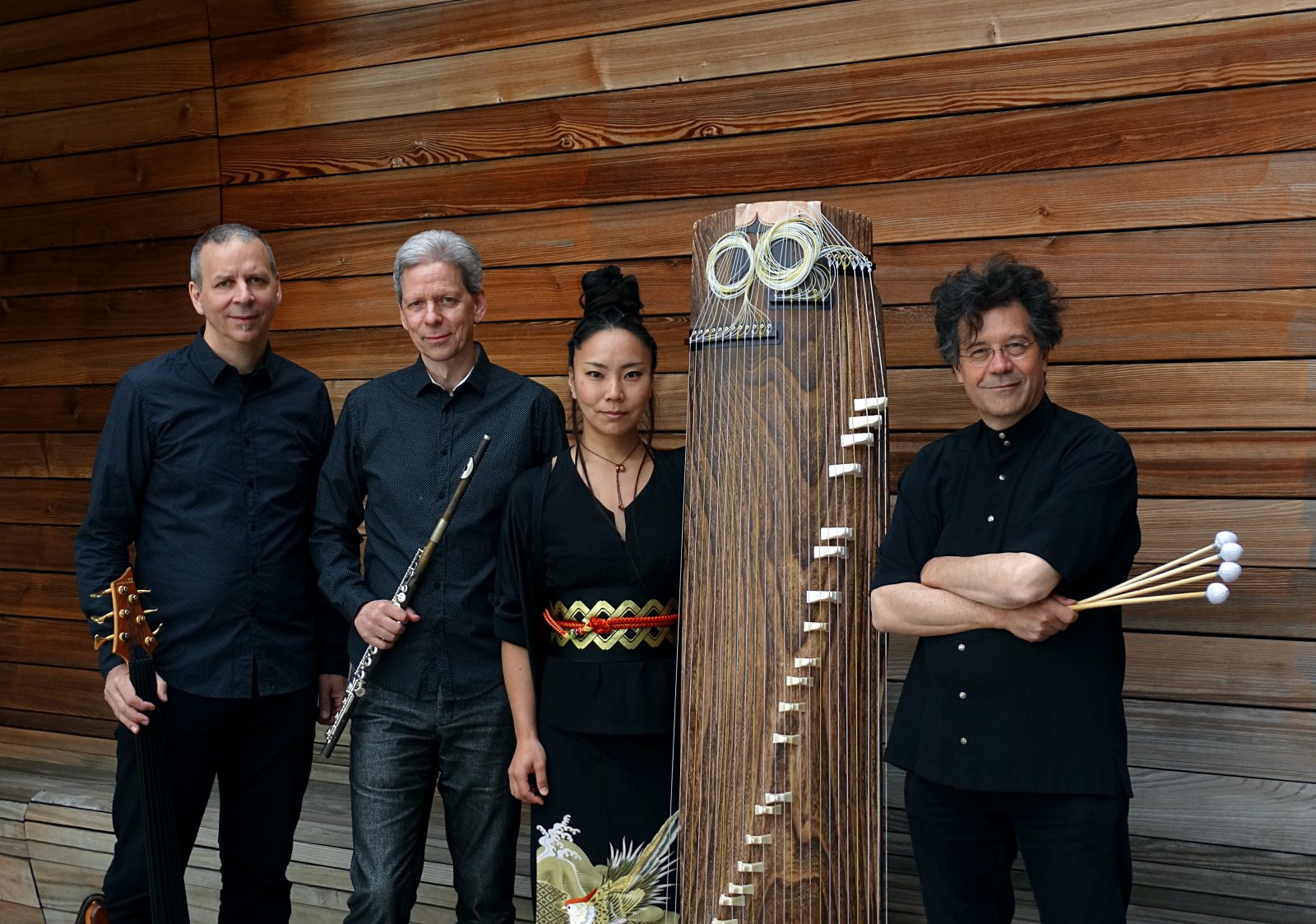 The flutist and composer Günter Wehinger has given some compositions by Claude Debussy a fascinatingly exotic sound. With flute, vibraphone, e-bass and koto (traditional Japanese string instrument), classics such as Clair de lune or L'après-midi d'un faune sound refreshingly new. Composition and improvisation merge into a harmonious whole. Wehinger and his co-musicians were not about "jazzing-up" Debussy. With the utmost respect for Debussy's work, the impressionistic sound is preserved in the improvisations, sometimes the musicians also improvise only with motifs of the composition. The program is complemented by compositions by Erik Satie, André Buser and Günter Wehinger. The formation released their first CD in 2019 with Unit Records.
---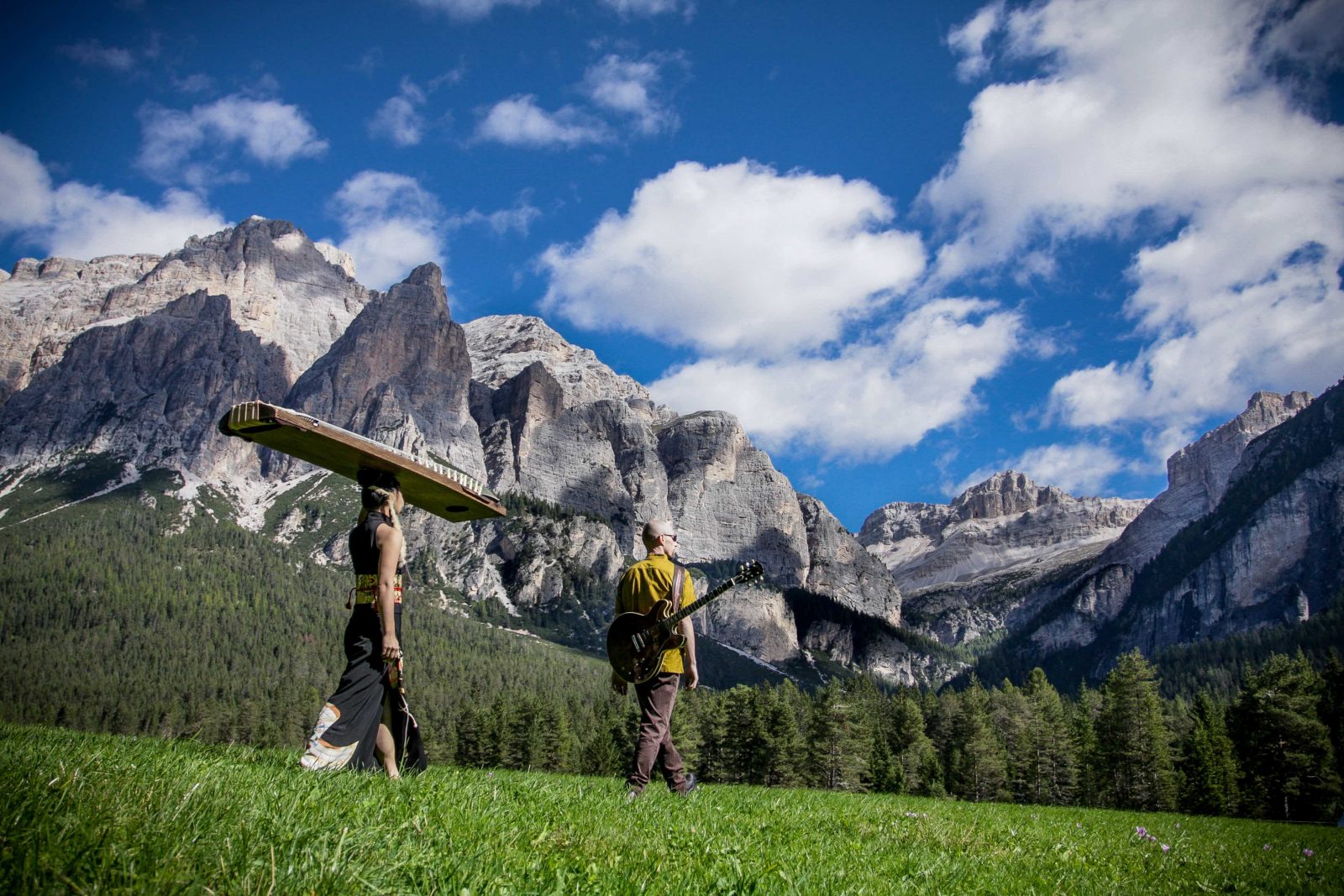 A chance meeting between two musicians, Jean-Daniel Granruaz, a Ladin guitarist and songwriter, and Karin Nakagawa, an eclectic Japanese artist, leads to an invigorating intercultural collaboration. This creates an approach to Ladin and Japanese realities in which distant cultures can magically converge, effectively expanding their borders. Their music cultivates a dialogue, taking listeners on a journey through past life stories and easygoing rhythms from bygone eras. Both artists use their backgrounds in folklore, pop, and jazz, as well as classical, chamber, and world music, fusing them into a stimulating, intellectual and sensuous performance.
Ol'Jansa
Göran Månsson & Friends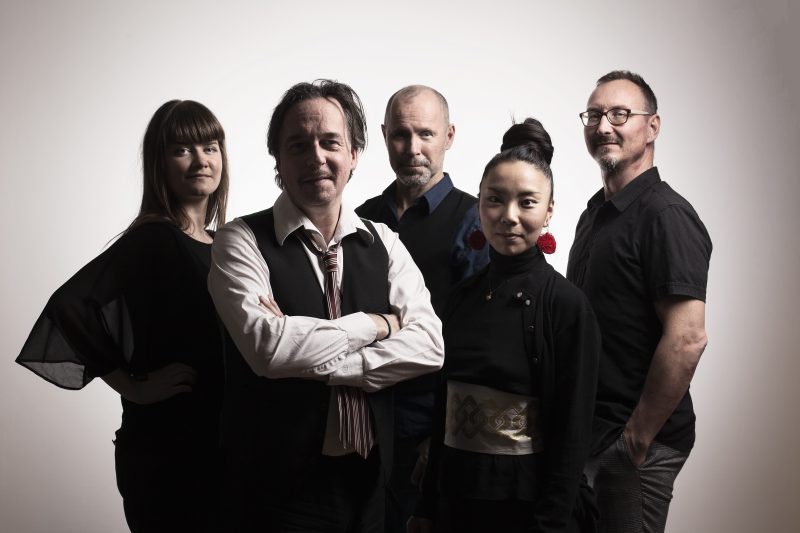 During the spring of 2017, the well known swedish flute player Göran Månsson was, in collaboration with a group of musicians out of all kind of genres, recording a new album with music inspired by Olof Jönsson.
Flute player Olof Jönsson (1867–1953) also called Ol'Jansa, lived in the Härjedalen province in the middle of Sweden, and was, as it was common among folk pipers, a musician mostly in private.
His instrument was the Härjedalspipan – the Härjedalen flute, and his music must have been seen as quite intriguing, even exotic, as Swedish radio recorded his tunes on no less than three separate occasions between 1935 and 1951.
Ol'Jansa's music was brought to the present, and developed to a border-crossing cooperation, with influences from different styles building a new music out of the traditional, giving a new identity to the instrument and its clime.
In commission of Svenskt Visarkiv (the Centre for Swedish Folk Music and Jazz Research) and the public record company Caprice Records the album Ol'Jansa – Göran Månsson & Friends was released in autumn 2017 and is nominated for the best Folk album of the Year 2018 in Sweden by MANIFEST GALAN.
---
BETWEEN BEAT AND BLUE
Carmen Olsson – Solo dance Performance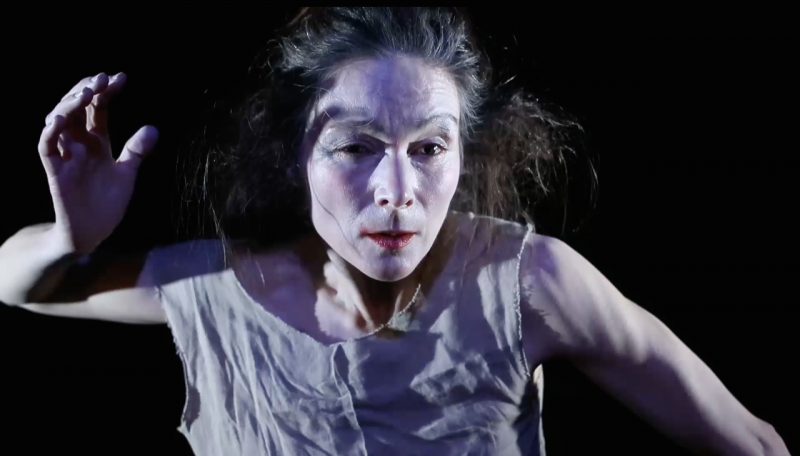 see saw
rises
falls
still beyond
To desire, yet at the same time dismiss. To long for something, but not want the possible consequences. To think one thing, but feel another. Could one truly see and experience change in a different way, from a different place? Such conflicting emotions are at the heart of the performance Between Beat and Blue.
CARMEN OLSSON – Dancer and choreographer, possesses a strong, yet sensitive sense of artistic expression. Her Swedish-Spanish heritage is reflected through and met with Butoh and various other aspects of Japanese culture.
Music: HARALD SVENSSON – created music for several of Carmen's works. In this piece he collaborates with Japanese musician Karin Nakagawa.
Music: KARIN NAKAGAWA – her improvisations on the Japanese 25-string Koto form the basis, while accompanying computer-generated effects round out the composition.
Lighting: VIKTOR WENDIN
Produced with support from: The Swedish Arts Grants Committee, Västra Götalandsregionen, Göteborgs Stad, Regionsteater Väst
---
Nakagawa & Taniguchi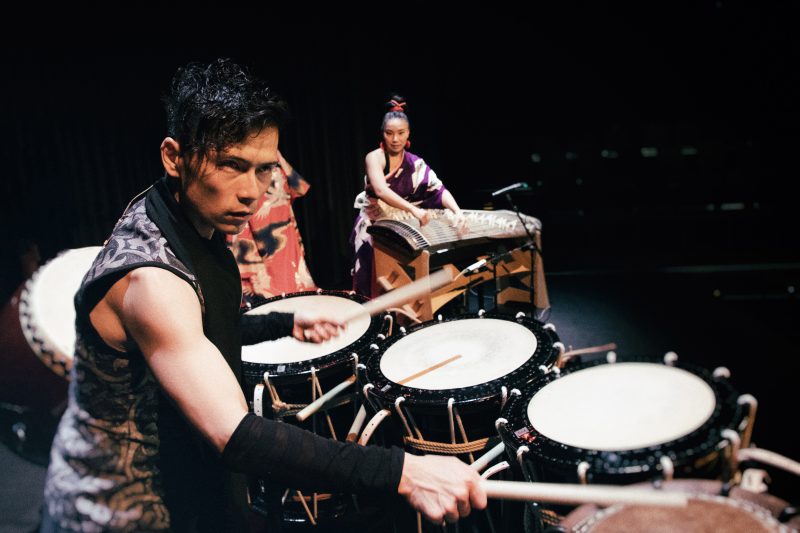 | | |
| --- | --- |
| Karin Nakagawa | 25-string Koto, Vocals |
| Takuya Taniguchi | Taiko (Japanese drum), Percussion, Vocals |
| | |
| | |
| | |
Sounds of Daybreak – A Fresh Take on Japanese Koto and Wadaiko Art
Experience an authentic and modern interpretation of traditional Japanese sounds and sentiments.
Multi-award-winning kotoist, Karin Nakagawa, and taikoist, Takuya Taniguchi, blend both classic and contemporary styles into a one-of-a kind program.
An energetic, emotional, and timeless performance inspires without the use of supplementary effects, but instead through a respectful and intense confluence of two masters.
---
Stone, stone – bubble up!
CHILDREN'S THEATRE by MOMONGA

| | |
| --- | --- |
| Lotta Sjölin Cederblom | Artistic Concept & Idea, Artist |
| Karin Nakagawa | Artistic Concept & Idea, Artist, Shadow Art |
| Tinna Ingelstam | Director |
| Anna Unsgaard | Costumes |
| Svante Grogarn | Light Design |
A poetic performance about the wisdom we have forgotten.
Deep down in the sea lives a girl who collects people's forgotten stories, songs and wisdom, which have sunken to the seabed like stones. When she listens to the stones, they become weightless and rise to the surface like bubbles. The girl reminds us of how important you are, how important I am, and how we are all connected.
Stone, stone – bubble up! is a theater project for children aged 5 to 9. Language and text are not essential in order to keep up with the performance. The story of the girl and the stones form the background story, through which other stories are told. These stories are inspired by different beings (yokai) from Japan and Sweden and are playfully and poetically portrayed. They are accompanied by various musical instruments, especially the Koto, a traditional Japanese harp. This instrument carries both the story and wisdom. The music that arises is much like a cloud of bubbles floating into space. With the help of light, shadows and music, the audience is taken deep and carried back up to the surface. When the light hits the foundation wall, people's forgotten stories and wisdom are brought to life.
Stone, stone – bubble up! is written and played by the newly formed duo Momonga: Lotta Sjölin Cederblom (known from groups like Markatta and SIMBI) and Karin Nakagawa (International award-winning japanese 25-string Koto performer).
In cooperation with Kultur i Väst and Konstepidemin.
Supported by the Swedish Art Council and Göteborgs Stad Kultur.
---
UNIO MYSTICA II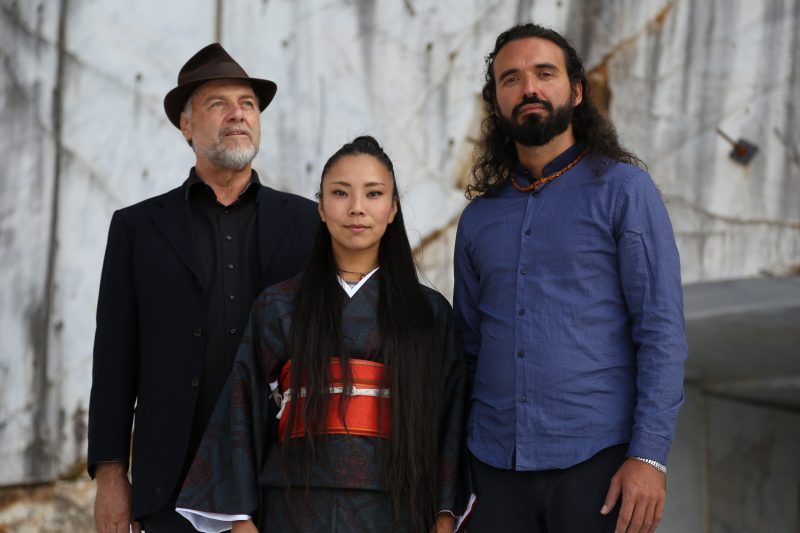 "unio mystica" is a long-term, multicultural project created by South Tyrolean musician and composer Dietrich Oberdörfer. The aim is merging different archaic sound languages that evoke the fundamental human need for internalisation and transcendence through their mystic character.
In "unio mystica II", occidental sacral music meets psychedelic guitar sounds and Far Eastern Shinto and Zen mysticism. In a shared journey through both time and diverse musical styles, the three musicians have created a distinct sound.
The formation released a CD in 2015 at Steinach Edition in Italy.
---
LIQUID SOUL & OSAKA SHOMYO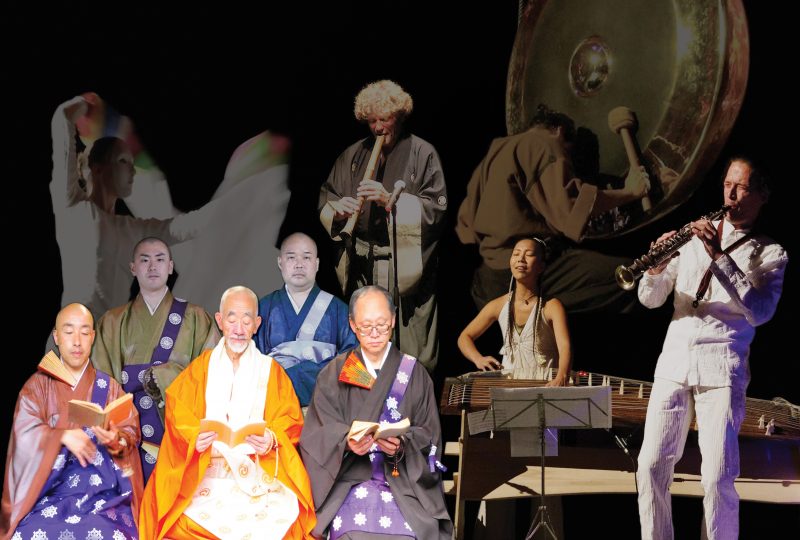 | | |
| --- | --- |
| LIQUID SOUL | |
| Gert Anklam | Saxophone, Sheng |
| Beate Gatscha | Dance, Hang, Taiko |
| Karin Nakagawa | 25-string Koto, Vocals |
| Saichu Yohansyah | Gong, Singing Bowl |
| Uwe Walter | Shakuhachi, Dance, Vocals |
| | |
| OSAKA SHOMYO | |
| Wajun Momoo | Choral Direction,Vocals |
| Kenryo Shibata | Calligraphy, Vocals |
| Kyujun Suzuki | Vocals |
| Juntetsu Nakanishi | Vocals |
| Yujun Onoe | Vocals |
| | |
| | |
SHO YOKU CHI SOKU – "To desire little is to know enough."
A staged German-Japanese oratorio, with 7th century Buddhist chants sung by monks from Osaka and Nagoya, traditional Japanese instruments, a giant Javanese gong, and richly improvised saxophone playing. A cross-cultural, inter-faith dialogue between East and West, past and present, as well as personal and collective spheres.
Oratorio (orare = pray) is a western Christian musical term for a vocal composition with a religious story. The oratorio "Sho Yoku Chi Soku" is a musical metaphor for the question of the true quality of life. This question unifies both cultures, which seem so different at first glance. It also traces back to the origin of mankind from which pure sound is created.
Dedicated to the victims of the catastrophe in Japan on March 11, 2011
---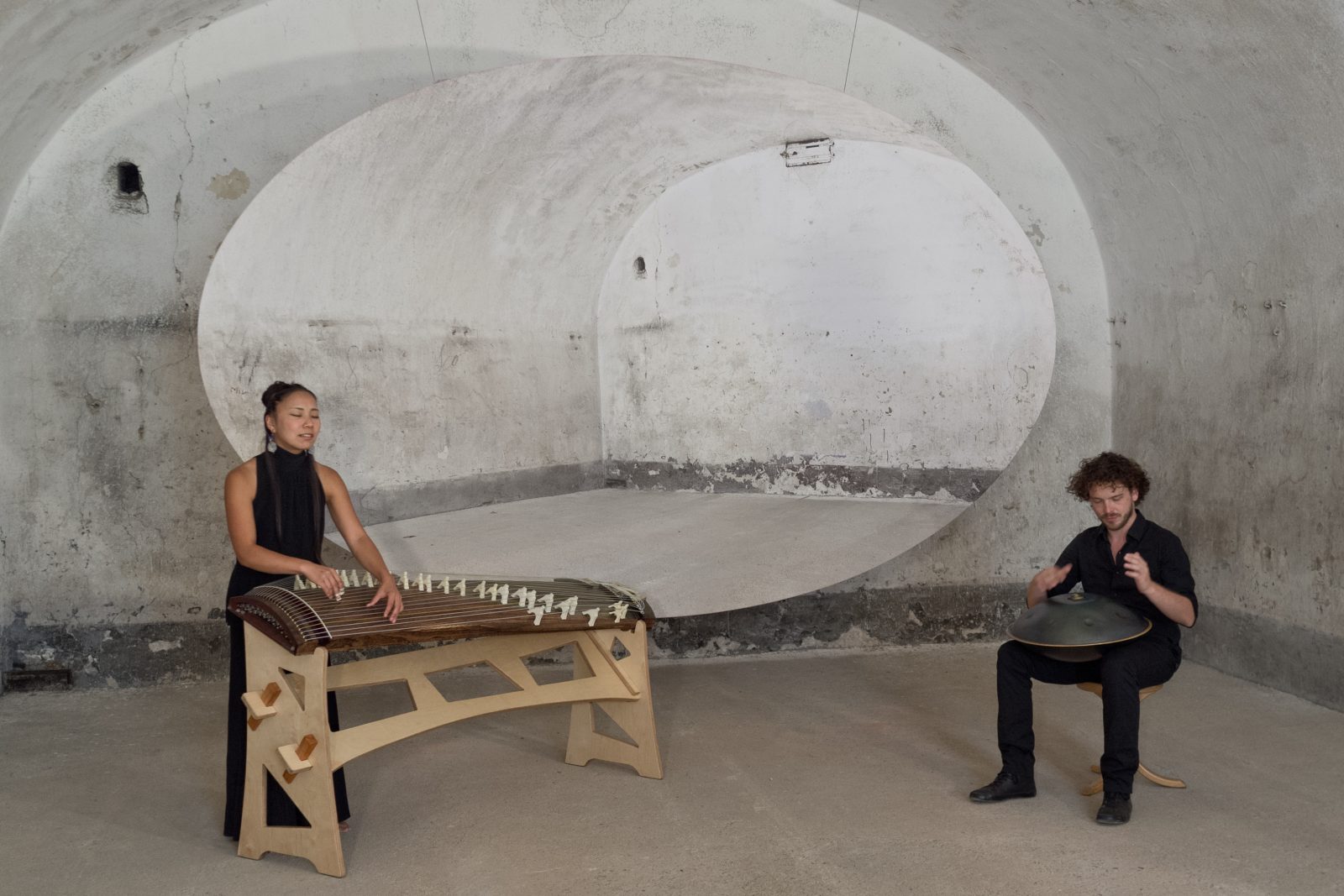 | | | | | | |
| --- | --- | --- | --- | --- | --- |
| Emanuel Valentin | Hang, Percussion | | | | |
| Karin Nakagawa | 25-string Koto, Vocals | | | | |
The musical connection between different worlds makes "KONG" what it is: an intercultural fusion of two artists from opposite sides of the globe. This unique duo gets its name from the tonal blend of two unusual instruments — the archaic and exotic Koto and the modern, spherical Hang. Koto &
Hang = "KONG." Gentle, melodic and harmonious, yet passionate and rhythmic, the duo lead their audiences into new dimensions while revealing a reality that transcends tradition. Accompanied by Karin's exceptional voice, listeners enjoy an exciting, emotional journey through culture, space and time.
---
Nakagawa & Pitscheider
– between hope and pain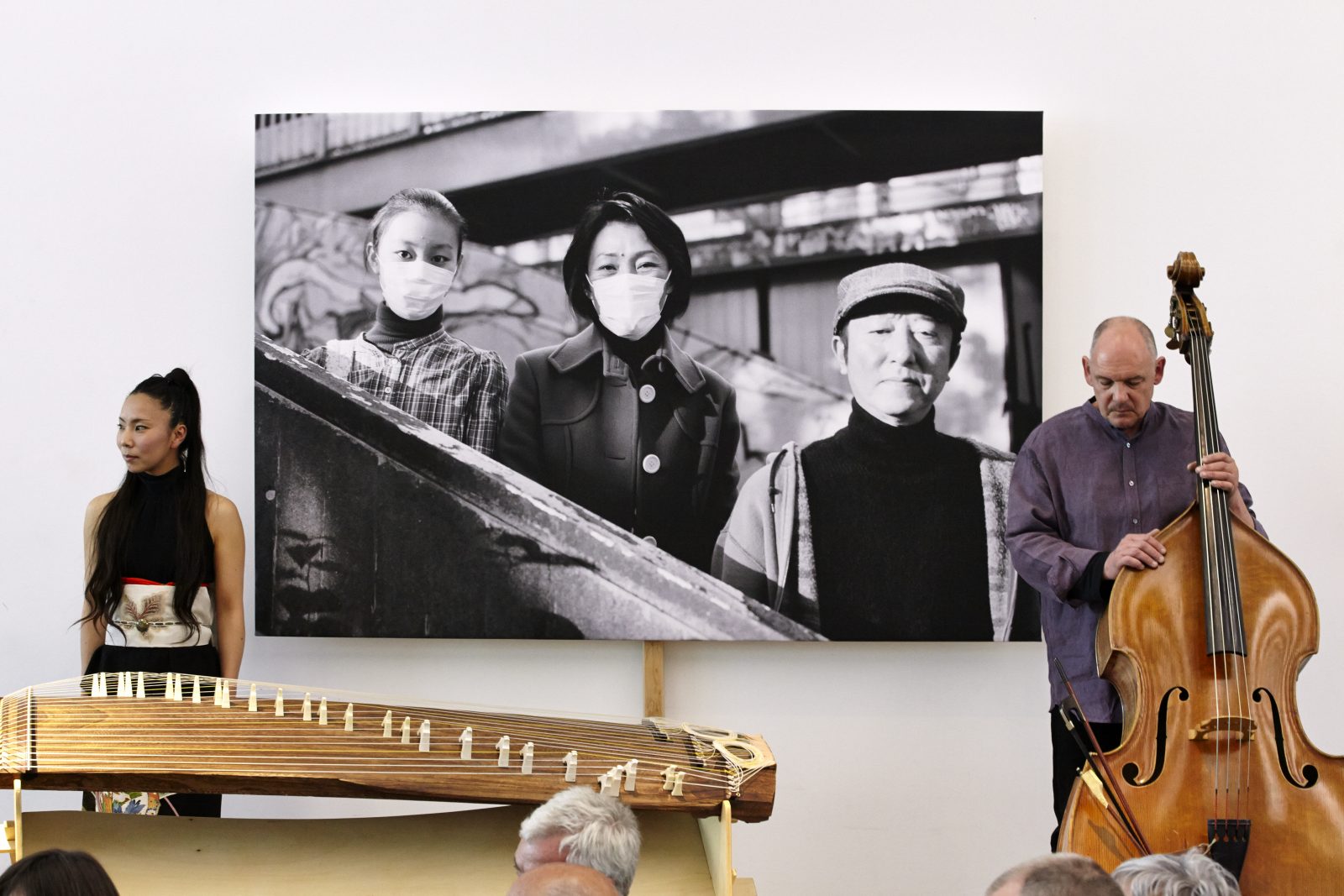 | | | | | | |
| --- | --- | --- | --- | --- | --- |
| Karin Nakagawa | 25-string Koto, Vocals | | | | |
| Günther Pitscheider | Double Bass | | | | |
Performance & Improvisation
Nakagawa and Pitscheider move in alternating, improvised dialogue, away from the obvious and toward the abstract musical world. Familiar and unfamiliar, near and distant, clear and ambiguous
—it's all there, in equal amounts.

This intense dialogue began in 2010 in Stilfs, Vinschgau (South Tyrol, Italy), where Karin spent nearly a year, especially when the severe earthquake and nuclear disaster took place in Fukushima, Japan in 2011. From an initial feeling of powerlessness arose the mutual need for pain, fear and hope to express themselves.

"The musical worldview of both musicians is like a life journey persistently confronted by chaos, curiously motivated by hopeful moments of personal harmony."
---